Once an education hub, area languishes for want of attention
In this village of Giani Zail Singh, the first Punjabi to become the President of India, the dropout rate of girls after the high school level is about 70 per cent as its residents are afraid of sending their daughters for further study to the neighbouring towns because of reports of rising crime graph. During his tenure as Chief Minister of Punjab, Giani Zail Singh strived to make Faridkot area a hub of education.
The village sarpanch, Sukhdev Singh, said although the district headquarters at Faridkot was just about 5 kms away from here but the villageers were not willing to send their daughters there for schooling beyond class X. The village has a co-education high school, but most girls discontinue their study after the tenth class as their parents do not allow them to go to the town that has Plus Two schools and a college, said village elders Gurcharan Singh and Gurmeet Singh. The high school should be upgraded to the secondary level, they demanded.

The village folk give credit for development of the area to Giani Zail Singh, but point out that after his death the village has become orphaned. Neglect of the area was not only by the present SAD-BJP coalition government, the previous Congress governments also did not pay any attention to their problems after Giani Zail Singh strained his relations with the then Prime Minister Rajiv Gandhi in 1987 by refusing to give assent to the Indian Post Office (Amendment) Bill arming the government with powers to censor any personal mail.

Sukhdev Singh said the village has been split into two panchayats because of the increasing population. The biggest problem was of waterlogging as the government has yet to lay a sewerage system here. The sewerage project for five villages of Faridkot, including Sandhwan, was sanctioned in 2004, but nothing has been done so far.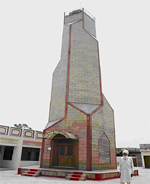 The tower housing a photo museum that has been constructed in the memory of Giani Zail Singh in his village Sandhwan near Faridkot.Tribune photo: Pawan Sharma

The cotton yarn spinning mill sprawling over 30 acres set up during Giani Zail Singh's tenure, employed about 2100 men and women. It was shut in 1998 and transferred to a business tycoon, said the sarpanch.


Gurcharan Singh pointed out that although the village is situated between Faridkot and Kotkapura towns on the highway but even private buses do not stop here to pick up the passengers and as such the railway station set up on the directions of Giani Zail Singh was a great relief to the common people as all passenger trains heading towards Bathinda, Ferozepur and Delhi stop here. The railways have rightly named the station as "Giani Zail Singh Sandhwan", Gurcharan Singh appreciated. Gurmeet Singh said it was during the Giani's tenure as Chief Minister that a post office, dispensary, veterinary hospital and a school were set up in the village.


Gurnam Singh and Jaswant Kaur, who were the immediate neighbours of Giani Zail Singh when he lived in his old house where a tower and a photo museum have now been constructed in his memory, recalled that the Giani made a group of about 50 residents of the village stay in the Rashtrapati Bhavan when they visited New Delhi when he was the President.


The Giani also arranged for their transportation to various places of tourist interest in and around Delhi. They also recalled that the Giani arrived in a helicopter in the village to attend the cremation of his elder brother Jagir Singh.


src.http://www.tribuneindia.com/2011/20110628/bathinda.htm#7